Student Profile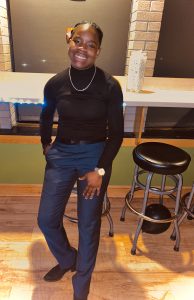 Michelle Bryant, a senior Business Economics major and Posse scholar, interned during the summer at the Federal Reserve Bank of Atlanta with the Supervision, Regulation, and Credit department. She is now working part-time at the Bank for the rest of the year. Michelle has aspired to be a part of the Federal Reserve since her freshman year at Wooster — She visited the Bank for a Posse field trip and got to hear employee testimonies.
Before Michelle started college, she interned at Accenture, a consulting firm in Atlanta, GA. In this internship she helped to devise strategic plans for different clients. After her freshman year, she got selected for the College of Wooster's Applied Methods Research Experience (AMRE) as a Workforce Expansion Consultant where her team "worked to improve the hiring practices of local businesses by creating a human resource toolkit of inclusive hiring practices." This team was advised by Dr. Krause and Cameron Maneese. After Michelle's sophomore year, she got hired at the RGP Consulting Firm in Atlanta, GA. However, this internship was canceled because of COVID and was replaced by the RGP Future Leaders Summer Leadership Program where she "was able to network with executives and contribute to a business case focused on Diversity and Inclusion." Michelle strongly believes all her past internships have helped her in figuring out her professional interests and career path.
During her time at the Federal Reserve Bank of Atlanta, Michelle worked with the Outreach team. She assisted with the "pilot stage of a new Socop Outreach tool- a new database that each Bank within the Federal Reserve System uses to record their Outreach initiatives and attendance.My time was filled with giving presentation, creating metrics, and brainstorming innovative ways to use the data collected." Michelle feels that the Economics courses she has taken at Wooster prepared her for the tasks she was asked to complete in this internship. Her classes also increased her understanding of what the Federal Reserve does and how it impacts the economy.
The most memorable and fun moment for Michelle at the Bank was when all the interns had to give a Pecha Kucha presentation – a timed presentation using only pictures. "I presented on different donut shops in the different cities with Federal Reserve Banks. Other interns presented on their travels, universities, or other passions. Each presentation was unique to the presenters, and I was able to learn a lot about my fellow interns and build some great connections."
Michelle feels she has been able to expand her career goals through her time and interactions at the Bank. Interns were paired up with 'buddies' who were employees on other teams assigned as informal mentors. Michelle was matched with a Bank Examiner who worked on Fair Lending Policies. "Our time together was spent connecting with other employees and learning about the different career paths the Bank has to offer. From the numerous conversations, I was able to walk away with some potential job prospects, as well as explore other future opportunities like Peace Corps."
Currently, Michelle is writing her I.S. examining "how expected returns of higher education determines the probability of college enrollment for African Americans." It is a continuation of her Junior I.S. where she researched the "impact of labor discrimination on the value of higher education for African Americans."
On campus, Michelle can be found working at the Admissions Office as an Admission Guest Service Specialist, and Overnight Recruitment Leader. She is also the Senior President of the Black Women's Organization. Michelle's favorite memory from campus is when she cooked dinner with her friends for another friend. "We made steaks covered with onions, mashed potatoes, asparagus, and shrimps. It was my first time learning how to make steaks, and they were delicious."
Michelle's intentional combining of academic and co-curricular internship opportunities have helped gain a deeper understanding of her career goals. After her graduation, Michelle hopes to work at the Federal Reserve Bank or a similar organization.